BCCAT Recognition Award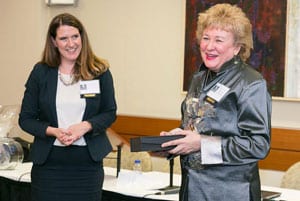 What is the British Columbia Council of Administrative Tribunals Recognition Award?
The BCCAT award is intended to recognize a person or persons for their outstanding contribution to the Administrative Justice System in BC. The award may recognize a particular achievement or an individual's service over a period of time.
Who is eligible for the recognition award?
The Award is open to anyone who has made a contribution to the Administrative Justice System in BC. Current Directors of BCCAT are not eligible.
Who can nominate persons for the Award?
Nominations for the Award will be accepted from any source. The recipient does not have to be a member of BCCAT.
Who selects the Award Recipients?
The Selection Committee consists of BCCAT's Board of Directors. The Committee may add to the list of nominees and will select the recipient(s) from the nominations field. The Committee reserves the right not to make an award in a given year.
Presentation of the Recognition Award:
The award is to be presented at a ceremony to be held each year in conjunction with BCCAT's Annual General Meeting or Educational Conference.
Deadline for Receipt of Nominations:
Nominations must be received by the Selection Committee not later than September 1 for that year's award.
---
BCCAT Recognition Award

Award

Date

Paul Petrie

Contribution

2002

Walter Pylypchuk

Contribution

2006

Hunter Litigation Chambers law group

Contribution

2008

Frank Falzon

Contribution

2008

Heather MacNaughton

Contribution

2009

Cheryl Vickers

Contribution

2009

Simmi Sandhu

Contribution

2013

James Collins

Contribution

2013

Debbie Broadbent (former BCCAT assistant)

Appreciation

2013

Steve Guthrie

Contribution

2013

Iain Macdonald

Appreciation

2014

Adele Adamic

Alan Andison

Contribution

Contribution

2017

2017

Keith Saddlemyer
Contribution
2018

BCCAT President Award

John Hall

President (96-98)

2009

Bernd Walter

President (98-00)

2009

Barbara Junker

President (00-04)

2009

Cheryl Vickers

President (04-06)

2009

Norma Edelman

President (06-08)

2009

Iain Macdonald

President (08-10)

2011

Simmi Sandhu

President (10-12)

2015

Helen del Val

President (12-13)

2014

Debbie Cameron

President (13-14)

2016

Alison Narod

President (14-16)

2017
---
The 2017 BCCAT recognition awards were presented at the annual conference on October 16th in Vancouver, BC.