Who we are:
The BC Council of Administrative Tribunals (BCCAT) is a non-profit organization.  Our members are primarily members, lawyers, and staff of administrative tribunals in British Columbia.  The Board of Directors are colleagues in the administrative community, elected by the membership at the Annual General Meeting, held during the educational conference.  Volunteer committees develop and administer BCCAT education courses, conferences and publication products.  Education instructors are practicing professionals – with hands-on experience in the administrative justice community.
Our whole reason for being:
To equip our members and colleagues with the tools to excel in the administrative tribunal community.
To address common concerns our members, consulting with Government to improve the administrative justice system.
To liaise with parallel organizations, federally and in other provinces, on cooperative ventures and issues of common concern.
Our education philosophy is three fold:
Quality training and education, specifically designed for our professionals is critical for success in the administrative justice community;
 Targeted training for administrative justice professionals will provide our community (and customers) with superior service;
Our colleagues are best positioned to design and deliver education specifically geared to the tribunal community.
Your expertise is needed now: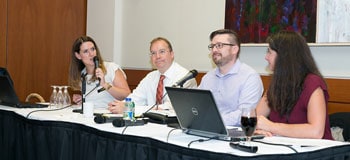 BCCAT serves the tribunal community through volunteers from the community.  This is our strength and what ensures our education programs best suit our members.  Your expertise and ideas are required, whether on the Board of Directors or Committees.  To participate contact us.
BCCAT delivers on unique training needs:
Administrative tribunals are separate and unique from the traditional court system.  Members require training specifically tailored to the tribunal community.
Whether you are seasoned lawyer or member of the general public (with little or no legal training), you cannot just walk into an administrative justice appointment.
BCCAT delivers custom designed training to prepare tribunal members and staff.  Existing members require periodic refreshers and training on more advanced adjudicative skills.  Emphasis is on practical, hands-on workshops.
We explore how to tackle real-life challenges in managing and adjudicating cases:
What are the ethical considerations when hearing a case?
What are the underlying principles in administrative law and natural justice?
What practical techniques are used to resolve disputes without hearings?
How do you manage difficult hearings?
How do you assess credibility and weight evidence?
How do you write clear, concise and coherent decisions?